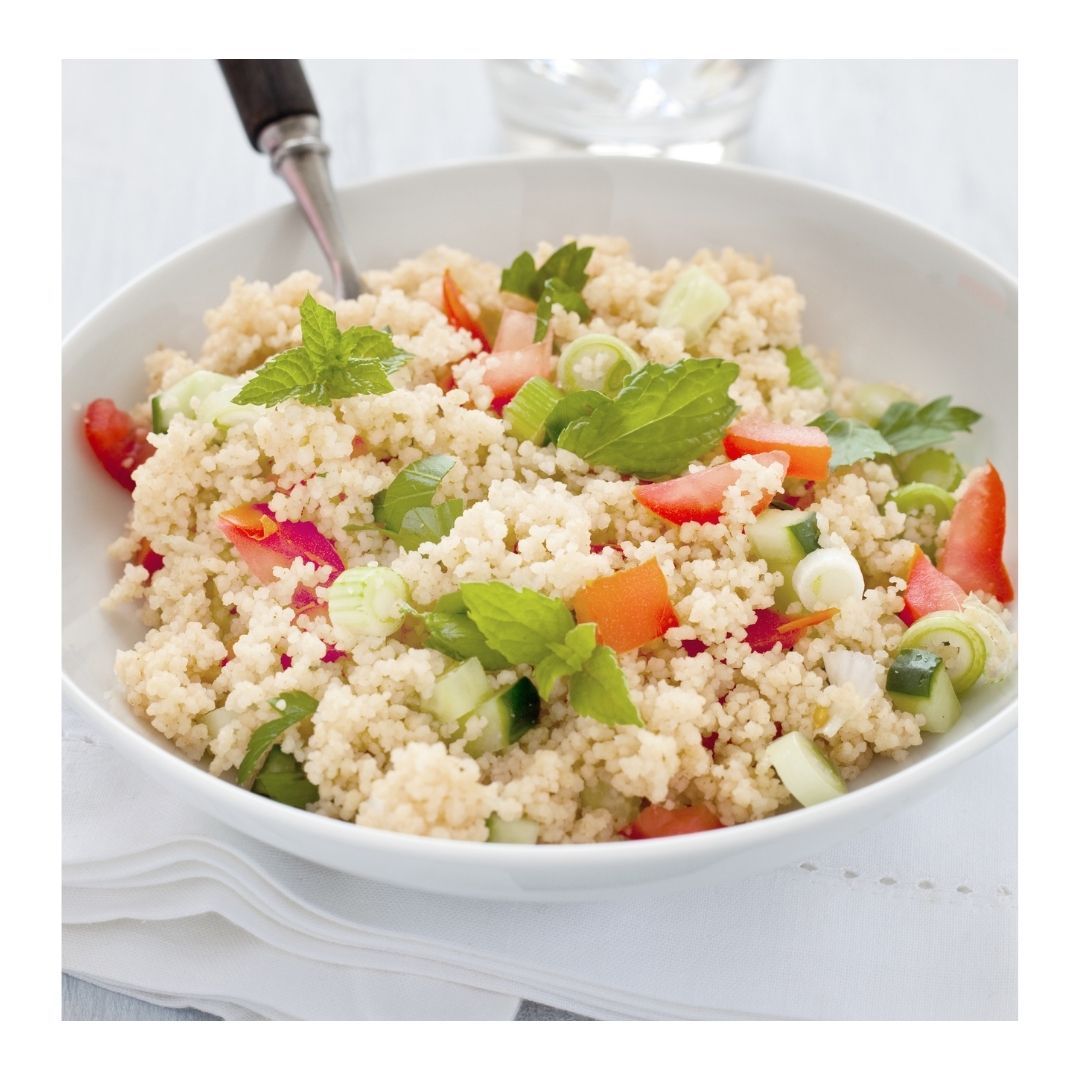 22 Sep

Cauliflower Tabouleh (from our Spring Detox)

This recipe is from our Spring Detox – click HERE for more details

Cauliflower Tabouleh

Serves 2
Calories per serve:

170cal with Lentils

180cal with Brown Rice

INGREDIENTS

• 1 large (180g) Tomato
• 1/4 head (200g) Cauliflower
• 1/4 (100g) Cucumber
• 1/2 shallot, fine chopped
• 1 tablespoon Extra Virgin Olive Oil
• 1/2 cup (14g) Mint
• 1/2 cup (14g) Parsley
• 1 lemon, juice of lemon
• Your choice of: 1/4 can (100g) Brown lentils, drained, rinsed OR 1/2 cup (63g) Pre cooked Rice. (1/8 cup (25g) uncooked rice, cooked to packet instructions)

• salt and pepper to taste

DIRECTIONS

To make cauliflower rice:
Remove leaves and stems from cauliflower, you can use the stems if they are still tender and not dried.

Break into florets and roughly chopped stems if using. Place into a food processor.

Pulse until the cauliflower is finely chopped and resembles couscous in texture and appearance.

Cauliflower can be served raw or cooked:

If cooking cauliflower: Cooking makes the cauliflower more tender and rice-like. Warm a large pan over medium heat. Stir in the cauliflower. Cover the pan and cook for 5 to 8 minutes, until the cauliflower is as tender as you like. Add the rice or lentils in the final few minutes of cooking to heat.

Place cauliflower "rice" in a medium bowl. Season well with salt and pepper. Add tomato, cucumber, shallot, herbs, lentils (or rice), lemon juice, and oil. Toss to combine. Taste again and add salt and pepper, if needed. Serve immediately.

Enjoy!