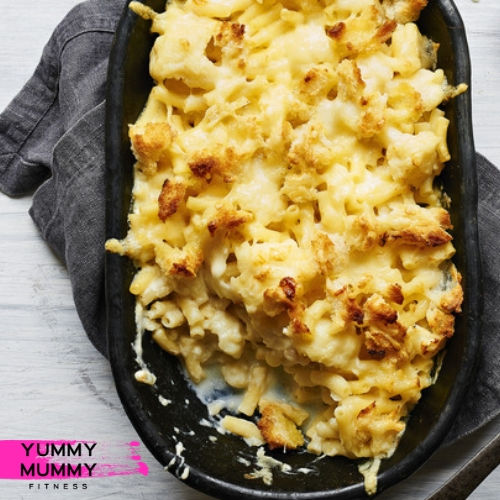 10 Sep

Quick, Easy, Delicious Family Dinners

Hi mummies!!!

If you are like me, crazy insanely busy some days with no time to THINK let alone cook for hours, then these 3 quick, delicious dinner ideas might come in handy! All of these are a huge hit in our house, as well as other YummyMummy Families – so give them a go and ENJOY <3

Healthy eating made easy – join our Facebook Community Group for many more great meal ideas and much much more HERE

See you on the healthy side

Simone xxx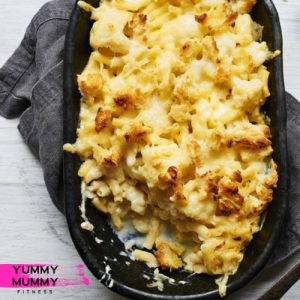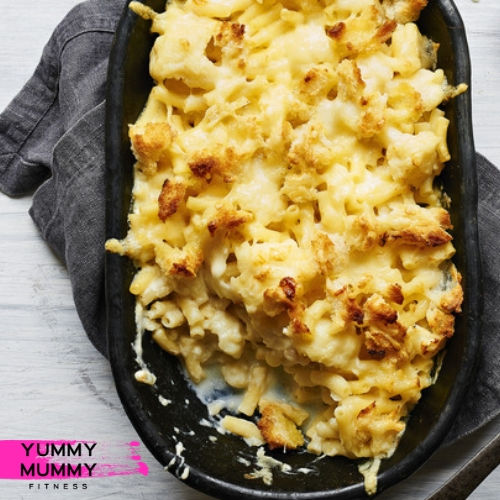 Cauliflower Mac N Cheese
Serves 5
Calories per serve: 360cal
Time to make: 10 mins prep 20 mins cook
(GF) (DF) V F
INGREDIENTS
• 250g macaroni (GF pasta)
• 1 head cauliflower, broken into pieces
• 25g butter (Dairy Free Spread)
• 2 tbsp plain flour (GF plain Flour)
• 2 tsp English mustard powder (or Mustard of your
choice)
• 450ml milk (Non dairy milk, soy works best)
• 100g Edam cheddar, grated (Vegan cheese)
1. Cook the macaroni following pack instructions, adding the cauliflower for the final 4 mins.
2. Melt the butter in a pan, then stir in the flour and mustard powder and cook for 2 mins. Gradually add the milk, stirring all the time to get a smooth sauce. Add three-quarters of the cheese and some seasoning to the sauce.
3. Drain the macaroni and cauliflower and stir into the cheese sauce. Transfer to an ovenproof dish, then sprinkle over the remaining cheese and flash under a hot grill until golden and bubbling. Serve with a green salad, if you like.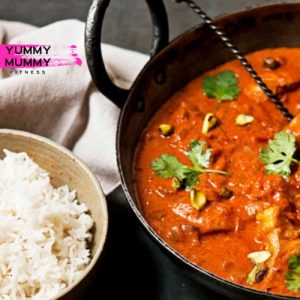 Calories per serve: 260cal
•
1 tablespoon butter (DF spread or plain olive oil)
•
1 inch piece of ginger, peeled and julienned
•
400g chicken thighs, chopped into bite sized pieces
MYO Butter Chicken Spice (or store bought paste)
•
3 coriander roots rinsed well and chopped
•
2 teaspoon ground cumin
•
2 teaspoons ground coriander
•
1 teaspoon garam masala
•
1 (400g) can tomato puree
•
1.5 cups (375ml) chicken stock (cubes/gel/real)
•
1/2 cup (125ml) natural yogurt (coconut yoghurt)
•
Small handful of coriander leaves to garnish
If using store bought paste follow the packet instructions

Heat a frypan on medium heat. Add a teaspoon of the butter in a saucepan and saute the onion, garlic, ginger and coriander roots until onion is soft and the mixture is fragrant.

Turn the heat up to medium high and add the rest of the butter and add the chicken pieces, cumin, coriander and garam masala mixing so that the chicken is coated with the spices. Add the tomato puree and chicken stock.

Simmer with the lid off for 15 minutes and then season with salt and then remove from the heat.

Allow to cool for five to ten minutes and then stir through the yogurt and top with coriander leaves.

Serve with rice and vegetables.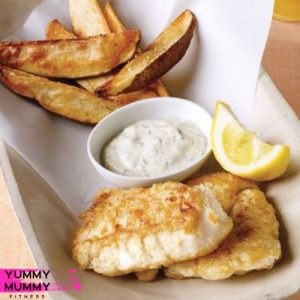 Fish and Chips with Tartare Sauce
Calories per serve 380cal
Time to make:  Prep 5 mins Cook 40 mins 
800g potatoes, peeled and cut into chips

1 tablespoon olive oil, plus a little extra for brushing

4 (600g) white fish fillets 

grated zest and juice 2 lemons

handful of parsley leaves, chopped

2 tablespoons capers, chopped

1/4 cup Greek yoghurt

lemon wedges to serve

Rocket or Salad leaves to serve
DIRECTIONS
Heat oven to 200C/fan 180C/gas 6. Toss chips in oil. Spread over a baking sheet in an even layer, bake for 40 mins until browned and crisp. Put the fish in a shallow dish, brush lightly with oil, salt and pepper. Sprinkle with half the lemon juice, bake for 12-15 mins. After 10 mins sprinkle over a little parsley and lemon zest to finish cooking.

Meanwhile, mix the capers, yogurt, remaining parsley and lemon juice together, set aside and season if you wish. To serve, divide the chips between plates, lift the fish onto the plates and serve with a spoonful of yogurt mix.