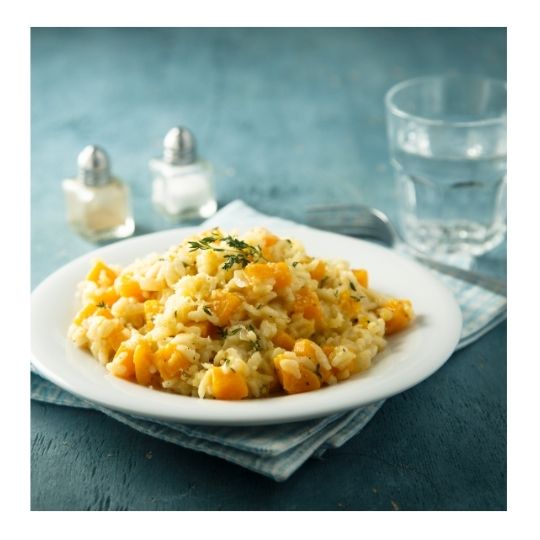 20 Jun

Pumpkin Risotto

Try our delicious Pumpkin Risotto, a family favourite by many of our YummyMummies!
It is super quick to prepare and cost effective – you will be making this more than once trust me :)))
Enjoy and feel free to share it with other mummies who you think would love this!

Serves: 4
Calories per serve: 400 cal
Prep time: 20 mins Cook time: 1 hour

 
INGREDIENTS
• 400g pumpkin, peeled, deseeded and cut into 1-2cm squares
• 1.5 tablespoons olive oil
• 2 garlic cloves, minced
• 1 small onion, sliced
• 25g butter
• 200g risotto rice
• 2 teaspoons ground cumin
• 1L hot vegetable stock (more may be needed)
• 50g grated parmesan
• A small handful coriander, chopped

DIRECTIONS
1. Heat oven to 180C. Place the chopped pumpkin onto a baking tray, drizzled 1/2 tablespoon of oil over the pumpkin and roast for 30 minutes.
2. Make the risotto while the pumpkin is roasting. Heat remaining tablespoon of oil with the butter in a pan over a medium heat. Add the onion and garlic. Once the onions are soft but not browned, add the rice and cumin. Stir to coat well in the buttery mix for about 1 minute.
3. Add half a cup of the vegetable stock, stirring occasionally until the stock has soaked into the rice. Continue to add the stock 1/2-1 cup at a time until the all the stock has been absorbed by the rice and the rice is cooked. You may need to add some additional stock if the rice is not completely cooked by the time the stock is all absorbed.
4. Once the rice is cooked and soft, gently stir in the grated cheese, chopped coriander and cooked roasted pumpkin.
5. Serve and enjoy!