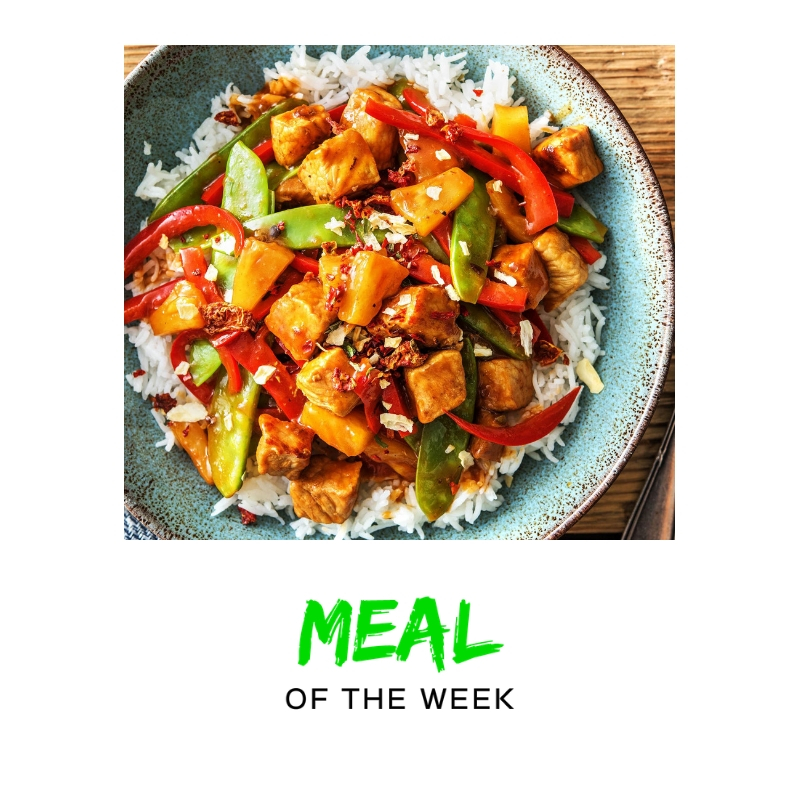 12 Feb

Sweet & Sour Pork

If you want a home made 'favourite take away' meal that s super quick and easy to prepare but feels just a touch 'naughty' – this has to be it! You can make it with different meats or fish and the kids will love it!! I hope you like it as much as we do – post a photo and tag us in it! We love seeing mummies cook our recipes <3

Sweet and Sour Pork

Serves 4
Calories per serve: 320cal + Rice
Time to make: 5 min prep 10 min Cook (GF) DF (V)

INGREDIENTS
440g can pineapple pieces in natural juice
1/3 cup (80ml) tomato ketchup sauce
1 1/2 tablespoons white vinegar
2 garlic cloves, crushed
2 tablespoons soy sauce/tamari
1 tablespoon cornflour (GF alt)
1 tablespoon peanut oil (of your choice)
400g pork scotch fillet, cut into 2.5cm pieces
1 leek, thickly sliced diagonally
1 small red pepper, seeded, chopped
1 carrot, sliced diagonally
Rice (microwave or cook as per instructions) to serve
Coriander to serve
DIRECTIONS
1. Drain pineapple, reserving 1/3 cup juice. Combine juice in a jug with tomato sauce, vinegar, garlic, soy sauce, cornflour and 2 tablespoon water.
2. Heat oil in a large wok or frying pan over medium-high heat. Cook pork, in 2 batches, for 3 mins or until browned all over. Transfer to a bowl.
3. Add leek, pepper and carrot to the wok or pan and cook for 3 mins or until onion is just tender. Return pork to pan with sauce mixture and pineapple. Cook for 5 mins or until pork is just cooked through and sauce thickens.
4. Serve pork with rice and top with coriander sprigs.