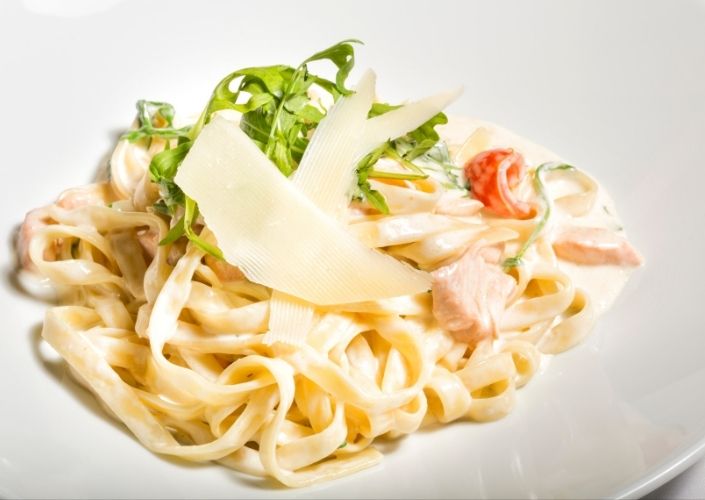 04 Oct

Creamy Lemon Pasta

Serves 4

Calories per serve: 350cal

Time: 30min meal

INGREDIENTS
4 asparagus spears

4ml extra virgin olive oil

Salt and pepper, to taste

300g pasta of your choice

1 1/2 teaspoons EVOO

1 small onion, diced

2 garlic cloves, minced

285g cannellini beans, rinsed and drained

80ml vegetable broth

Juice of 1/2 lemon

1/2 teaspoon salt

Black pepper

Fresh parsley, to garnish

Zest of 1 lemon, to garnish
Preheat oven to 220C and bring a pot of water to a boil

Snap off the bottoms of the asparagus. Toss the

asparagus with the oil, salt and pepper.

Spread the asparagus out on a baking sheet in one

even layer. Roast for 15-20mins until tender and

starting to brown.

Meanwhile cook the pasta according to package

instructions.

While the pasta is cooking and the asparagus roasting,

make the sauce.

Heat oil in a pan over medium-high heat. Sauté the

diced onion for 4 to 5mins until soft and translucent.

Add the minced garlic and saute another 1-2mins.

Combine the beans, onion/garlic mixture, vegetable

broth, lemon juice and salt in a blender and puree until

smooth. Add a little more broth to thin if needed.

To serve, combine the pasta and sauce and serve the asparagus either on the side or chopped and mixed in

with the pasta.

Garnish with lemon zest, parsley and an extra squeeze

of fresh lemon!

Enjoy!