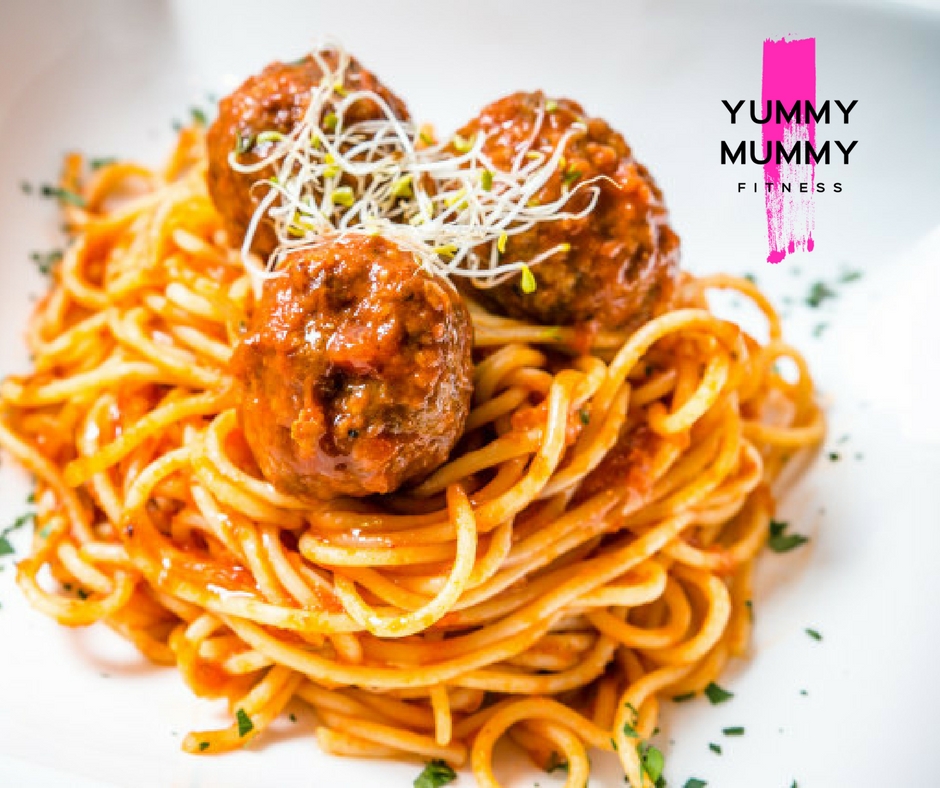 17 Apr

Spaghetti and Meatballs

There is nothing like a basic family friendly meal and this Spaghetti and Meatballs meal is one of the yummiest!

SPAGHETTI AND MEATBALLS
Serves: 5
Calories: 309 per serve for meatballs and tomato sauce only (add pasta cals to this)

Meatballs
500g-600g Quality Mark beef mince
1/2 cup breadcrumbs (or use 3/4 cup fresh, made in a food processor)
1 medium onion, finely chopped
3 cloves garlic, crushed
1 free-range egg, lightly beaten
2 tablespoons parsley, finely chopped
1 tablespoon fresh thyme leaves, finely chopped
2 tablespoons tomato paste
1 tablespoon extra virgin olive oil
Generous pinch of salt and a good crack of black pepper

Sauce
3/4 cup red wine (or use stock – but I recommend wine for flavour)
1 1/2 cups beef stock
1/2 cup tomato paste
400g can chopped tomatoes in juice
1 tablespoon dried oregano
1 tablespoon balsamic vinegar
2 teaspoons brown sugar
Handful halved ripe cherry tomatoes (optional)

To serve: 
Cooked spaghetti (or your favourite shape pasta, or mash)
Fresh basil leaves, torn
Freshly grated Parmesan cheese

Directions
Add the mince to a large bowl with the breadcrumbs, onion, garlic, egg, herbs, tomato paste, olive oil and season. Mix gently to combine using clean hands.
Shape the mixture into balls slightly bigger than a golf ball.
Cover and refrigerate for 20 minutes to set.
Heat a little oil over a medium-high heat in a large frying pan and brown the meatballs all over (do this in batches).
Once browned, remove carefully with tongs and set aside on a plate.
Drain any oil from the pan and return it over a high heat.
Add the wine (or stock) and let it bubble for 30 seconds, scraping the pan with a wooden spoon to incorporate all those crunchy caramelised meat juices from the meatballs.
Add the stock, tomato paste, tomatoes, oregano, balsamic vinegar and sugar. Stir.
Add the meatballs back to the pan and simmer uncovered for 15-20 minutes, or until the sauce has thickened to a thick pasta sauce consistency (it might take longer or less time).
Turn the meatballs over once or twice.
Add the cherry tomatoes (if using) and simmer another minute or so.
Season with salt and pepper, until it tastes right to you.